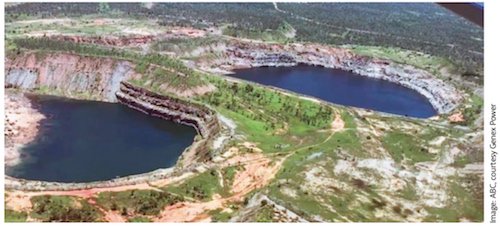 Japanese utility J-Power has invested $25 million in Genex Power, to help deliver the ASX-listed renewables developer's cornerstone Kidston Pumped Storage Hydro Project in Queensland.
Genex said this week it had signed a "milestone" share subscription agreement with the Tokyo-listed J-Power, that would secure the equity funding required for the pumped hydro component of the world-first solar and pumped hydro storage project.
Genex has already built a 50MW solar plant at the old Kidston gold mine in northern Queensland, and proposes to add another 270MW of solar, and use the height difference from the old open cut gold mine to create a 250MW pumped hydro facility with six hours of storage.
As we have reported, the pumped hydro addition to the project – known as K2-Hydro – is currently being developed in a 50:50 partnership with EnergyAustralia.
That deal, secured in December of last year, stopped short of an agreed off-take contract. But in its statement on Thursday, Genex said the final stages of project financing were well underway, with financial close on track for mid-2019.
The deal with J-Power is particularly focused on supporting the development and operational stages of K2-Hydro, considering the Japanese utility's experience in hydro-electric generation.
"J-POWER are a global expert in hydroelectric projects, including pumped storage, and as such they bring significant experience and technical expertise to Genex to support in the delivery of the K2-Hydro project," said Genex CEO James Harding.
To this end, the deal establishes a Technical Services Agreement (TSA) with J-Power to provide certain professional technical advisory services to Genex on the development and operational stages of K2-Hydro.
The deal – presuming it is agreed to by shareholders – also makes provisions for the appointment of a J-Power nominee director to the board of Genex.
Source: RenewEconomy